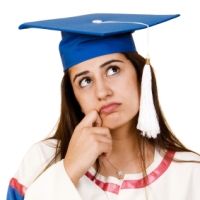 After years of job-hunting without success, Adrienne Rodney
decided that perhaps her master's in journalism was to blame: Maybe employers were considering her overqualified or at risk of jumping ship the moment the market improved.
So, she removed it from her résumé.
"It felt dishonest, so I asked the hiring manager how he felt about people who do that. He says that it was the conversation that got his attention, not whether I have a degree or not," she says.
Brooke Allen, who hired Rodney as an assistant to work both in his trading group at Maple Securities, USA, Inc., as well as to help with his website noshortageofwork.com, says he thinks she did the right thing by leaving it off.
"Soon after sending her résumé, she confessed she left off her master's. By this point I wanted to meet her, even though, frankly, I had not yet even glanced at her résumé," he says. "Honesty is very important if any relationship is going to work and it is critical in the workplace. While I do not consider leaving off qualifications to be dishonest, some [employers] might feel otherwise."
The discussion about whether or not job seekers should leave education off their résumés at the risk of seeming overqualified -- or not qualified enough -- is common. And as with most debates, there are two arguments to be made.
"I believe omitting the standard field of education on a résumé is a fatal mistake. I am looking for reasons to drop someone off the pile," says Amy Stoehr, founder, Changing Lanes Consulting. "I want honesty and creative ability. If your education isn't impressive, then showcase what is impressive about you -- and tell me the truth. Lead with your strengths. Use your cover letter to give me a specific, compelling example of why you're a good fit for the position I'm hiring."
While almost every employer feels that honesty is the best policy when applying for a job, some employers agree that excluding your education from your résumé is necessary at times -- like if it gives the impression that your career interests lie in another direction.
"Recruiters will make assumptions about what type of job will be a good long-term fit for you," says Lori Gale, CEO of FastLanesHire.com. "If you have a degree that is very specific, yet completely unrelated to the position to which you are applying, a recruiter will likely dismiss you as a serious candidate. Once again, you should never lie, but perhaps you are best off explaining your career change in person rather than via your résumé."
If your education is less than stellar, there are still ways you can play up the most impressive parts of your résumé to catch an employer's attention.
1. Play up your work experience
"If you have a lot of experience that's directly related, some companies may overlook the lack of a formal education," says Linda Duffy, president of The Leadership Habitude. "Point to your significant accomplishments and hopefully they'll focus on those and not your lack of education."
2. Apply for and obtain professional certifications in your field
"There are accredited professional organizations in almost every field that offer recognized certification programs. These certificates demonstrate that you not only are capable of passing exams in your field, but that you are peer recognized," says Tom Taormina, forensic business pathologist
®
, The Taormina Group, Inc.
3. Emphasize your other abilities
If you're lacking a good education, then you need to highlight your work experience. Play up your other abilities by using strong adjectives throughout your résumé that jump out of the page, suggests Erica Moore-Burton, a private career coach. "If a hiring manager is looking for a qualified person, your experience is right on the money and they can see this from the content of your résumé, then your education will be secondary and chances are that you will at least land an interview; where you can impress them even more when you talk about your experience. Very seldom do hiring managers
talk
about your education in detail, it's the experience that they want to know about."
In general, including education is, of course, preferable. And you should NEVER lie about your education. Use your discretion when deciding whether to include your education your résumé, but know that
not
including it doesn't mean you won't get the job.
"The key to how to communicate one's education in a résumé is all about the industry and context of the job and employment being considered. If you're applying to be a professor or a doctor it goes without saying that you need to have certain degrees and levels of education to qualify for consideration.
If you're applying to be a business leader it's helpful to have a college degree, but don't we all know of the 'richest man in the world' who never completed college yet went on to develop a most successful computer company?" reminds Joan Tabb, author of "Great In 8: The Fastrack to Career Success." "Define your résumé to your particular strengths; whether they are your education, employment achievements, industry recognition or a combination."
Source: careerbuilder